The Hilltown Artisan Guild will hold their annual Holiday/Winter show, as they have for 30 plus years, at the Worthington Town Hall.
Saturday and Sunday, November 16 & 17, 2019 from 10am-4pm daily.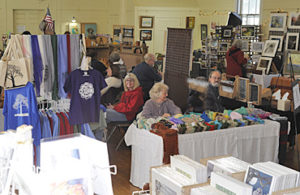 This year's show will feature fine arts paintings and watercolors, photography, jewelry, note cards, pottery and ceramics, ornaments, hand made shawls and scarves, framed and matted prints, art calendars, wood carvings, hand made wood items. The Worthington Council on Aging will have a table featuring their annual knitted items for sale.
The Hilltown Artisans Guild is a network of diverse professional craftspeople and artists who reside in the hilltowns of western Massachusetts. Members benefit from shared market strategy and opportunities to exhibit and sell their work.