Reminder:
Taking effect Wednesday, June 3, 2020
By Order of the Board of Health – You Must Wear a Mask at The Transfer Station
The Select Board has voted to implement some changes to the traffic flow and operations at the Transfer Station, beginning Wednesday, June 3, 2020. Our desire is to improve efficiency as well as to encourage physical distancing requirements associated with the Covid-19 Pandemic.
Cones will be set up and vehicles will enter the area one car at a time. Susan Asher, our Transfer Station Attendant, will be stationed in the area near the 2 compactors. You'll check in with her while in your car and let her know what you're disposing of. She'll then ask you to mark your card accordingly and, if necessary, write a check to the town for any open top disposal items.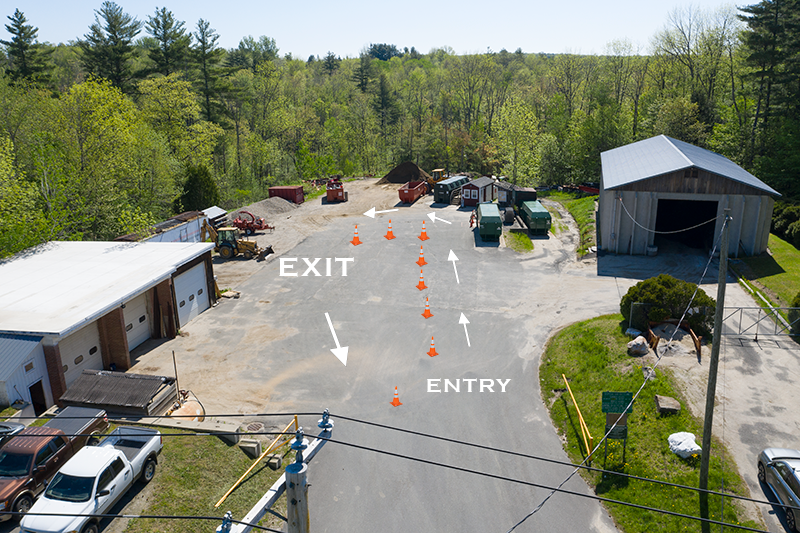 After checking in, you'll then proceed forward and stop to unload trash, paper and recycling. You will then continue around a small loop to exit on the far side of the lot, stopping if necessary, to put items in the open top containers or electronics recycling container.
By checking in with your disposal items in advance we hope to avoid any confusion over what goes where and what the charges are for disposal items in the Open Top Containers which are designated for metal & demolition items only.
We understand and expect that at least initially the line may back-up and it may take you longer to make it through the Transfer Station. We'll certainly monitor and continue to fine tune the operation as necessary. Please understand that this is the way most town and city Transfer Stations work. While the come and go, park anywhere system has been in place for years, we are too often finding that items are being left without being paid for and/or are being disposed of incorrectly. It is also a safety issue.
Beginning with the new Fiscal Year on July 1, 2020, the costs to the town for recycling are changing dramatically. Over the past several years the town has received payment for paper, glass, cans and metal recycling. We paid to haul the items, which is actually the bulk of the cost for all trash and then received a small amount back. The market for bottles and cans has changed. Most used to go to China and they have stopped accepting our recyclables. The domestic market for recyclables is gradually growing, but as of July 1, we will now pay to recycle our cans, bottles and paper. With costs going up significantly, we have had to raise rates modestly for FY 2021 to $50 for the first Sticker and $40 for Seniors. It's still $2 for the 2nd Sticker. Cards remain at $20 each.
Applications for Stickers can be downloaded here. Completed applications can be mailed to Town Hall or left in the Town Hall dropbox.
Part of the cost determination of recycling is driven by how contaminated that stream is. The more items dumped into the bottle and can recycling bin that shouldn't be there (% of contaminants), the more it costs to dispose of it. That's why it's more important than ever that you pay attention to the guidelines for what can be put in there. Guidelines for what's recyclable are available on the Town Website Disposal/Transfer Station page.
We are also encouraging residents to compost their organic waste both for ecological reasons and to help reduce the amount of solid waste we have to haul and dispose of. To help with that, the town is now subsidizing the cost of Earth Machine Compost Bins and they are available to Worthington Residents for $25. For more information and to order an Earth Machine Compost Bin, contact the HRMC at hrmc@hrmc-ma.org and provide your name, residential address and phone number (or call 685-5498 with the same information).
Thanks for your cooperation as we implement these changes and we of course welcome your feedback any time at sboard@worthington-ma.us.