State Representative Natalie M. Blais Invites Constituents to Connect with Her on Leap Day.
The "Leaping Across the District" Tour Includes Stops at Seven Communities Across the 1st Franklin District
Natalie will be at the Worthington Library, 1 Huntington Rd, from 10:15-11:15am on Saturday, February 29, 2020.
Sunderland, Mass.- State Representative Natalie M. Blais (D-Sunderland) invites residents of the 1st Franklin District to meet up with her at one of seven stops on her day-long district tour on Leap Day, February 29, 2020.

"I'm taking advantage of the extra day on Leap Year to talk with constituents," explained Blais. "It is important for me to meet constituents where they are and this tour provides opportunities to hear concerns and answer questions."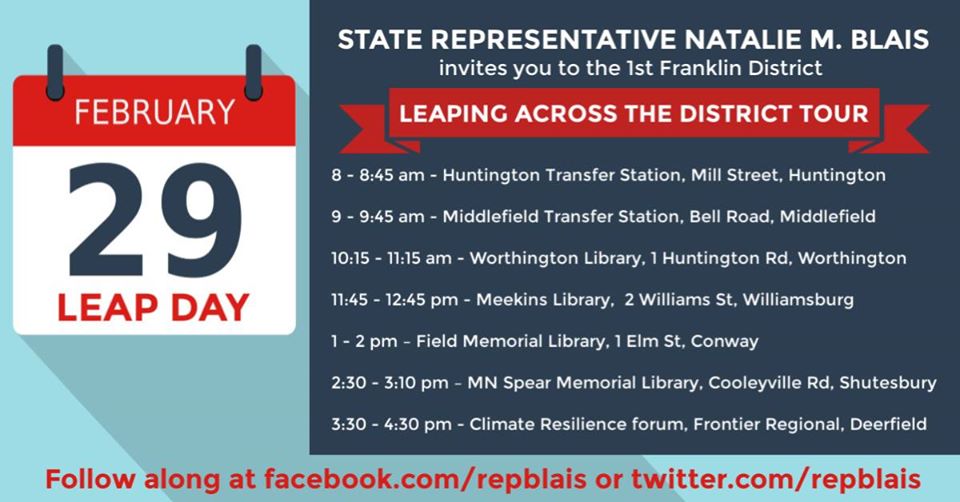 The Leaping Across the District Tour includes stops at:

8 – 8:45 am – Huntington Transfer Station, Mill Street, Huntington

9 – 9:45 am – Middlefield Transfer Station, Bell Road, Middlefield

10:15 – 11:15 am – Worthington Library, 1 Huntington Rd, Worthington

11:45 – 12:45 pm – Meekins Library, 2 Williams St, Williamsburg

1 – 2 pm – Field Memorial Library, 1 Elm St, Conway

2:30 – 3:10 pm – MN Spear Memorial Library, 10 Cooleyville Rd, Shutesbury

3:30 – 4:30 pm – Climate Resilience in Deerfield forum, Frontier Regional School
This forum takes place from 9 am – 4 pm and is being funded by a Municipal Vulnerability Preparedness grant from the Massachusetts Executive Office of Energy and Environmental Affairs. Residents are asked to register in advance by calling the Deerfield Select Board Office at 413-665-1400, ext. 111, or by sending an email to patk@town.deerfield.ma.us. More information available here: https://www.deerfieldma.us/home/news/deerfield-host-climate-change-forum
The 1st Franklin District includes the communities of Ashfield, Buckland, Conway, Deerfield, Leverett, Montague, Shelburne, Shutesbury, Sunderland, Whately, Chester, Chesterfield, Cummington, Goshen, Huntington, Middlefield, Plainfield, Williamsburg, and Worthington.