Sunday News from Superintendent/Principal Dobosz
December 15, 2019
Good Afternoon Community,

On Saturday, Worthington held its first ever Winter Festival! This event was coordinated by several folks in town. A huge thanks to; The Rabbit Hole, Worthington PTO, Worthington Recreation Committee, Worthington Girl Scouts, "It Takes A Village", local photographer Jayce Anastasia, and all the bakers who donated to the bake sale. The event was a success, and we are already thinking about next year! For those of you who could not attend here is a snapshot of what you missed!
Around noon a large crowd gathered at The Rabbit Hole where Santa and Mrs. Clause arrived on Engine Ladder 10! The school was bustling with families decorating gingerbread houses, engaged in crafts, shopping at the pop up, "It Takes A Village", buying coffee and hot cocoa from the Worthington Girl Scouts, and finally leaving with delicious baked goods. The finale included local carolers and they were terrific! Families came from as far as Pittsfield, Springfield, and Agawam! Ms. Lisa and I had such a wonderful time meeting so many new families!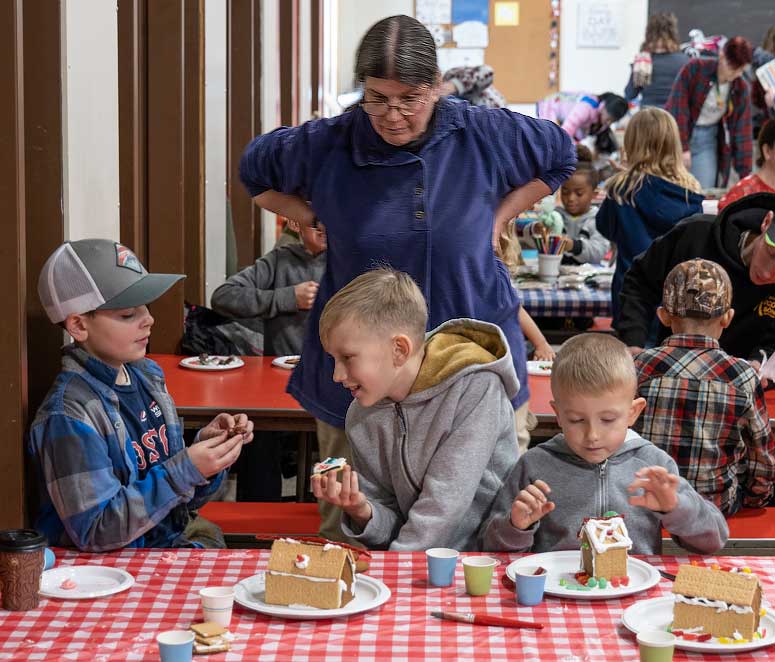 This is our last week before winter recess! I would like to say thank you all so much for your continued support and dedication to the Worthington School District. We are so lucky to have such an amazing community that supports local education. As 2019 wraps up, I am personally grateful to be a part of the Worthington community. We are a school district where our students are outside everyday engaged in play or learning projects, our small classroom sizes allows for teachers to develop individual learning plans to meet the needs of all learners, and as the educational leader of the district I get to be with kids every day! Thank you, and have a wonderful winter recess and see you all in 2020!
A few friendly reminders and opportunities:
Dates to be mindful of:
• Winter break from December 20, 2019- January 1, 2020.
• School resumes January 2nd!
Warmly,
Gretchen Morse-Dobosz
Superintendent/Principal