The Worthington Library Offers a Hands-on Art Workshop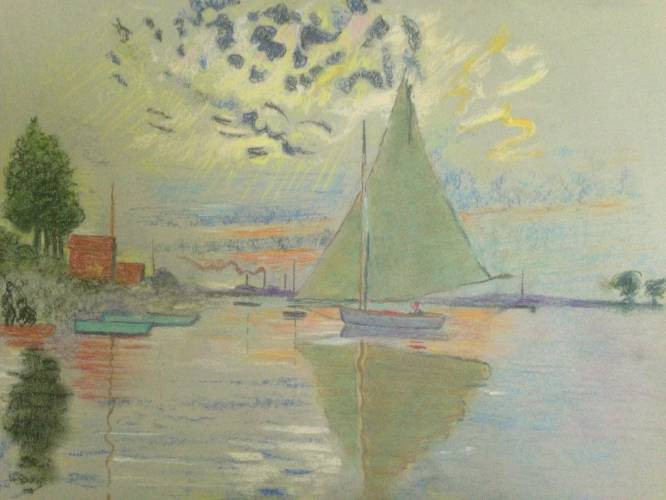 Saturday, March 9, from 1:00 – 3:00pm, the Worthington Library will host Greg Maichack with his workshop, "Sail Away on the Craft of Pastel Painting." This pastel painting workshop is designed for beginners to experienced artists. Seats fill quickly for Greg's workshops, so please call 413-238-5565 or emailtheworthingtonlibrary@gmail.com to register.
Imagine using sailboat references and Maichack's pastel version of Monet's Impressionist painting, "Sailboat at Le Petit-Gennevilliers," to create your own pastel painting. In this new, highly researched two-hour workshop, you will freely experiment with hundreds of the artist's professional grade pastels, pastel pencils, and pastel paper, creating a painting in your own style, realistic or Impressionistic, in this fun pastel painting workshop.
Gregory Maichack is a seasoned pro at teaching pastel techniques, as recognized by the Museum of Fine Arts Boston, Massachusetts Cultural Council, and 1,030 libraries and local cultural councils. He guides participants through the process with everything they need to know to pastel paint any subject. Expressive and fun, you will quickly learn how easy and direct pastel painting is and, as always, all will keep their pastel painting.
This program at the Worthington Library is made possible by the Dorrington Fund, a grant in memory of Connie Dorrington.