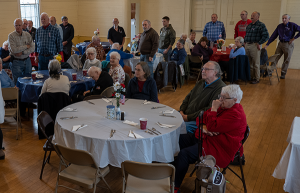 COUNCIL ON AGING'S SEPTEMBER POTLUCK WILL BE RECOGNIZING AND INVITING OUR VETERANS, SPOUSES, PARTNERS, OR CAREGIVERS TO COME AND ENJOY LUNCH WITH NEIGHBORS AND THE FRIENDSHIP OF FELLOW VETERANS.

SEPTEMBER 11, 12:00 AT THE TOWN HALL

 ANYTIME OF THE YEAR IS SPECIAL TO SHOW APPRECIATION FOR THOSE WHO SERVED.

Dan Nye from Central Hampshire Veteran Services will be the guest speaker.
Mary Kane, R.N. will also be available for a Blood Pressure Clinic