Worthington School District
147 Huntington Road
Worthington, MA 01098
413-238-5856
Dear Community: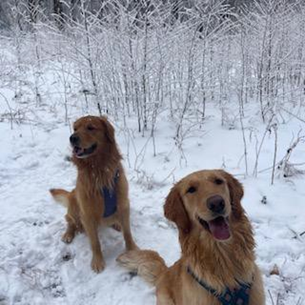 Happy Snow Day! Hope you've been able to get outside and enjoy the snow. I was able to get out early this morning for a quiet winter hike with Cairo and his friend Calie. The trees were covered in a layer of ice and hung over the trail. It made for a very pretty walk in the woods!
Movie Night Fundraiser:  We wanted to thank the community for their support last Friday during movie night. With the help of parent, student, and staff volunteers we were able to raise $628 to help fund our trip to Nature's Classroom this spring. Thanks to all the parents for all the baked treats to support this event. Thank you to Gretchen for donating the pizza. Stay tuned for more upcoming fundraising events!
Mr. M and Ms. T.
World's Finest Chocolate:  We are currently selling chocolate bars to raise funds for the ⅚ graders Nature's Classroom Trip. There are carmel, milk chocolate, almond, and crisp bars for $1.00 each or $60 for a box! If you are interested in buying some chocolates to support our students please email Lisa at louellet@hr-k12.org or stop by the office!
Family Breakfast:  We would like to invite family members to breakfast on January 25, 2023! Please make sure to enter through the cafeteria door and sign in. And, please look for a sign-up sheet from Ms. Ashley in the green folders. Cost for adults to purchase breakfast or lunch.
Hilltown Family Center Playgroup: Every Monday at R.H. Conwell beginning at 8:30 for infants and toddlers beginning at 9:45.
Reminders from Nurse's Office:
If your child is going to be absent or tardy, please cc mbreymann@hr-k12.org and louellet@hr-k12.org.
If you need Covid tests, text me.
If you have a health concern about sending your child to school, you may reach Nurse Meg by text at 413-320-8172 or email at mbreymann@hr-K12.org before 7:00 a.m. and until 7p.m.
During school hours, Nurse Meg can be reached at 238-5856 extension 1.
Upcoming Events:
January 23, 2023: Guest Speaker, Lynn Lyons will be speaking at Hampshire Regional beginning at 6 p.m. in the Auditorium. The topic includes: Practical Solutions For Managing Worry, Enhancing Flexibility, and Creating Wellbeing
January 25, 2023: Family Breakfast
January 26, 2023: Virtual Parent Meeting beginning at 7:00 p.m.
January 27, 2023: All School Meeting beginning at 9:10 a.m.
February 10, 2023: Noon Dismissal
Have a wonderful weekend!
Warmly,
Gretchen Morse-Dobosz
Principal/Superintendent, Worthington School District
gmorsedobosz@hr-k12.org