Worthington School District
147 Huntington Road
Worthington, MA 01098
413-238-5856
gmorsedobosz@hr-k12.org
Dear Community: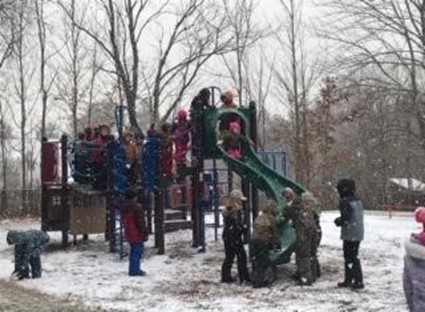 The first snow of the season was exciting for the students. Many students wanted to get the sleds out for recess! Miss Mica captured this great photo of the students during recess with the snow gently coming down. This is a friendly reminder to make sure that students come to school with coats, snow pants, boots, hats and mittens. We spend a lot of time outside and want to make sure all students are prepared for the weather!
After School Update:
Session 2 Registration:
Session Two FY23 Registration.doc
Session 2 starts on November 28 (the Monday after Thanksgiving). Session One will end November 22 (the Tuesday before Thanksgiving).The registration form is attached. A paper copy of the registration form will be handed out to students by their school day teachers this week. Forms can be e-mailed to Shannon Madden or given to your student's school day teacher.
We have some new activities this session! We have also separated some of our activities into smaller and different aged groups to better meet the needs of our students. Please look at the grade level of each activity before registering your student to be sure they are eligible for an activity.
We have some new staff joining us this session!
*Judy Babcock will be teaching dance with Mrs. Madden on Wednesdays
*Alexis King, our school adjustment counselor, will be teaching Games and Challenges and homework help.
Wednesday, November 23:
This is a half day of school and the program will not be open.
If you have any questions about the after-school program you may email Shannon Madden at smadden@hr-k12.org.
School Committee Update:           SC community update 11:22.docx
School Committee Listening Session Invite: Please join us for a listening session on Wednesday, 1/18/23 at 3:00 PM in the school library (snow date 1/25 at 3:00 PM). Over the last year the Worthington School Committee held several listening sessions around town. We found those sessions helpful and would like to continue to invite families and all members of our community to offer us feedback. Two school committee members will be there and we will be joined by faculty. While the listening session is an opportunity to come and discuss any issues relating to the school, we would especially like community input on our plan to develop priorities for a five-year budgeting plan. What do you think we should prioritize in our budgeting? What do we need to recover from the pandemic and foster Conwell students' growth as resilient and confident citizens? Where are we headed? What do you envision for Conwell for the future? We would love to hear your ideas for what you would like to see grow at Conwell over the next five years.
Equity Advisory Committee: Hello Conwell families and school community!  As we announced in the Friday newsletter last month, we at the Equity Advisory Committee have put together a book list for this school year with the aim of providing "mirrors and windows" for the students of R.H. Conwell. View the list here: Equity Advisory Committee Book List.
Our committee has been working on this list for a number of months, and the last step in completing the project is to purchase the books for use in our school. This is where we need support from our wonderful school community! We are asking for donations to help us purchase these books. The total cost for all 21 books is around $220, with individual books ranging in price from $6 to $18, so truly every little bit helps. Those who would like to donate can do so with either a check made out to the Town of Worthington, or by directly purchasing books- and both checks and books can be dropped off at the office. If purchasing books, please just email Amy or Alix at rhcadvisorycommittee@hr-k12.org and we will update the list! Our goal is to have all books in hand and ready to read and enjoy by January. Feel free to reach out to us at the email above with any questions. And thank you for your support!
Family Breakfast and Lunch: We would like to invite family members to breakfast on Tuesday, Nov. 22. Please make sure to enter through the cafeteria door and sign in. And, please look for a sign-up sheet from Ms. Ashley in the green folders.
Cost for adults to purchase breakfast or lunch.
Breakfast is $3.00. ● Lunch is $5.00.
Reminders from Nurse's Office:
You have returned over two thirds of the OPT-IN forms for COVID testing. Keep them coming. Thank you so much!
In the next few weeks, I will begin screening the students for hearing, vision, spinal curvature and BMI. More information to come.
If your child is going to be absent or tardy,  please cc mbreymann@hr-k12.org and louellet@hr-k12.org.
We know of no new cases of Covid since early last week. The high fever/cough virus is still occurring but with less frequency. School absences have been very low this week. Don't hesitate to request rapid Covid tests. We have plenty.
If you have a health concern and feel that a call to Nurse Meg is warranted to help make a decision about sending your child to school, please text Nurse Meg at 413-320-8172 or email her at mbreymann@hr-K12.org before 7:00 a.m. and until 7p.m.
During school hours, Nurse Meg can be reached at 413-238-5856 extension 1.
Upcoming Events:
November 22, 2022: Family Breakfast
November 23, 2022: Noon Dismissal for Thanksgiving Break
December 8, 2022: Equity Advisory Committee Meeting at 10 a.m. at R.H, Conwell and via zoom. A link will be sent out the week of the meeting.
December 8, 2022: School Committee
December 9, 2022: Noon Dismissal
December 15, 2022: PTO meeting
December 16, 2022: Report Cards Go Home
December 16, 2022: All School Meeting beginning at 9:00 a.m.
December 16, 2022: Parent Lunch
December 21, 2022: Parent Breakfast
December 22, 2022: Celebrations Around the World
December 23 – January 3: Winter Recess
January 4, 2023: Students return Have a wonderful weekend!
Warmly,
Gretchen Morse-Dobosz
Principal/Superintendent, Worthington School District
gmorsedobosz@hr-k12.org