The Town of Worthington will celebrate the anniversary of its founding with a community-wide pot-luck dinner and celebration on June 29, 2019. The event will take place under a tent on the lawn next to Town Hall on Huntington Road beginning at 5 p.m. Live music will be provided by Pete McLean's Old Country Road and Friends.
A similar event was the kickoff to the town of Worthington's celebration of the 250th anniversary of its founding in 2018, and many residents have requested a repeat of that highly successful event. According to Selectboard Chair Charley Rose, "We had over 400 people there and all we've heard since is 'can we do it again?'" So we're starting what we hope will be a new tradition as we celebrate the founding of Worthington each year at the end of June."
Prior to the event, the Worthington Historical Society will host an historic walking tour of Worthington Center. Participants will learn the history of what used to be called "Center Village." The tour is free and will begin in front of the Congregational Church at 3:30 and stroll to Harvey Road and back, discussing historic homes, interesting bygone residents, and key sites including the Church and Town Hall.
Founders' Day Schedule:
3:30-5 p.m. – The Worthington Historical Society House Tour
5-6:30 p.m. – Arrival, Pot-Luck setup and Happy Hour
6:30 p.m. – Brief announcements and dinner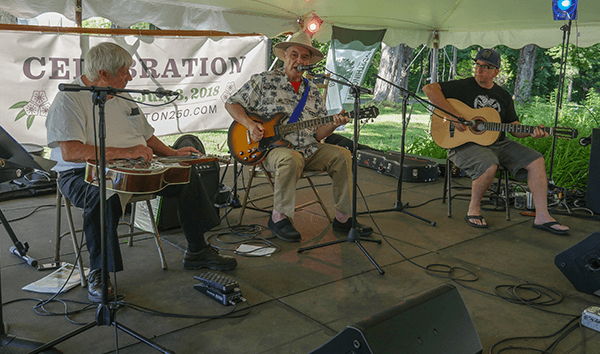 7-8:30 p.m. – Live music from Pete McLean's Old Country Road and Friends
8:30-11p.m. – Socializing
Sign-up sheets for the Pot Luck dinner are available at:
Corners Grocery
The Worthington Library
The R.H. Conwell School
The Maples
The WorthingtonTown Hall
The Worthington Congregational Church