Recurring Event (See all)
The Village Church in Cummington
7-9pm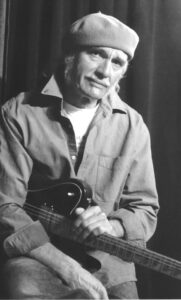 A fun double bill on March 13 at the Friday Night Café at the Village Church in Cummington. The first half of the evening belongs to Jim Kaminski. Jim K was a founding member of FAT – the revered valley band from the late 60's and 70's. Today, along with the occasional FAT reunion show, he pours his creative, musical energy into a solo, acoustic format. His passionate, soulful, singing and powerful guitar work cast a spell.
The second half of the evening belongs to singer-songwriters Bill Catalde and Rick Murnane. They record and perform together as The Prestons. The duo is well regarded for their close harmonies, and also for their thoughtful lyrics about the contrast of life and mortality. Or, as they put it: "We write cheerful songs about death and dead people, and then go out and sing them at the living."
Once again this show is brought to you by the friendly folks at the Village Church who believe that music can be a powerful force for building community. Snacks are provided, BYO drinks, and donations for the church and performers are appreciated. For more information:
413-634-5398
.
Programs are supported in part through grants from the Worthington, Cummington, Ashfield, Plainfield, Chesterfield, Goshen, Williamsburg and Windsor Cultural Councils which are supported by the Mass Cultural Council, a state agency.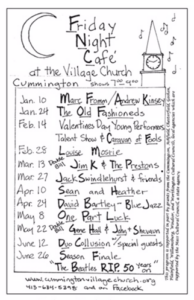 Details
Starts On
March 13, 2020 - 7:00 pm
Ends On
9:00 pm
Event Categories
Venue

Cummington
MA
United States
01026
Powered by Yendif Technologies